For most women, being a mom comes with a boatload of responsibilities. Always on-the-go and always on-the-clock, it's easy to say that the demands of motherhood can certainly be a handful! But just because your days are spent chasing after little feet and kissing boo-boos doesn't mean that fashion has gone out the window. No, being a mom does not put an end to your trendy sense of style or your obsession with sparkling jewelry. If you need a little help figuring out where exactly to fit fashion into your busy schedule, we've got you covered. Check out these jewelry secrets from the fashion experts at Tara Fine Jewelry Company. These secrets are sure to help you make your fast-pace life more glamorous than you ever thought possible!
Tip #1: Find jewelry items that are versatile and can be worn various ways
When it comes to getting yourself and the kids dressed for the day, every minute counts. There's no time to lollygag and there's definitely no time to sort through jewelry to find that one accessory that matches your outfit. You need something that you can throw on quickly, so we suggest finding versatile jewelry items with a simplistic design, ie. stud earrings or stackable bands. Not only will this save you time when getting dressed, but it will also save you money. Instead of buying a big ticket luxury item that you can only wear twice a year and only matches that one special occasion evening gown, find an everyday type of accessory that will compliment almost any outfit. This way you'll get more for your money. Bangle bracelets are simple yet stylish accessories that add a wonderful touch of sparkle to almost any outfit. The best part about these fashionable bracelets is that you can wear multiple bangles for a grand modern look or wear just one for a more easy-going style. For moms that never have time to waste, versatile and easy to slip-on jewelry items are definitely the way to go!
Tip #2: Wear accessories that are "tough as nails"
As a mom, there's no such thing as down time! Needless to say, you need accessories that can keep up with your fast-pace lifestyle! Accessories that are durable but also stylish can be hard to find at times, that's why we suggest going for quality and not quantity. Investing and buying jewelry items made of 14k or 18k gold better ensures that your jewelry will withstand your hectic schedule and will last longer. When it comes to finding a stylish wristwatch, you need something that's reliable and sturdy, not a watch with just a pretty face. Timepieces from brands like Tag Heuer, Breitling, and Rolex showcase the perfect balance of fashion-forward design and high performance precision. If you're a mom that often looks at the clock, treat yourself to a Swiss-made timepiece and quality jewelry. You'll love having go-to accessories that are fashionable, sparkly, and can withstand the everyday hustle-and-bustle of motherhood.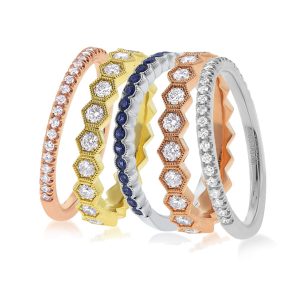 Tip #3: Sport jewelry items that are kid-friendly
Now, you're probably wondering what we mean when we say "kid-friendly" accessories. We're talking about accessories that won't distract the kids and won't add any hassle to your day. Your accessories should never hinder you from doing what you love best: being a mom! If you're out running errands and taking the kids to lacrosse practice, heavy or clunky costume jewelry will only get in the way. If you still have a baby on your hip, dainty jewelry is the way to go. Anything that's gaudy or colorful is sure to grab their attention, which could end painfully for you. Whenever buying jewelry, you should always consider its sharpness. Is this fashion ring prone to snagging or poking? You should always ask yourself these kinds of questions when browsing for a new, everyday jewelry item. Stackable rings are a fun, modern trend that is perfect for a busy mom! Whether you prefer a smooth, polished look or a Diamond-studded design, these stackable bands are not only kid-friendly, but they are also versatile and will add a radiant sparkling glow to almost to any outfit. Moms, jewelry shopping is just like any other hobby; enjoy the experience and find something you adore, but never let shopping or the jewelry be a hindrance to your role as Mommy!
If you remember these secrets the next time you're jewelry shopping, you'll find that your jewelry box just got a little more luxurious without adding a single moment of hassle to your busy life. Being a mom is the most important job in the world, and it requires a lot from you. Jewelry and Watches should never be a distraction or an added stress, it should only be a complimentary piece, an accessory. So now that you know what you're looking for, you should go ahead and try out our favorite part: shopping! If you're looking for a beautiful, pressure-free shopping environment, visit Tara Fine Jewelry Company in Buford, Georgia. The jewelry experts at Tara know exactly what a busy mom like you needs in her jewelry box. Our glamorous fine jewelry will have you feeling beautiful and ever-so stylish. Be a mom that stands-out in the crowd, and rock stylish – kid-friendly – jewelry from Atlanta's best jeweler, Tara Fine Jewelry Company!