There's nothing more special than knowing that your love is meant to be! Some describe it as destiny; others might say it was written in the stars. However you choose to word it, it's no secret that Robbie and Kelsey were meant to be long before they ever fell in love.
Dating back to the 70's, Robbie and Kelsey's beautiful love story was already set in motion. Both of their mothers played on the Girls Basketball Team at the University of Georgia. As teammates, their moms became great friends and unexpectedly built a bond that would one day connect Robbie and Kelsey. But that wasn't enough; fate had more in store for these two!
Years later, Robbie and Kelsey began attending the same high school and swim club, Swim Atlanta in Lawrenceville. Having so much in common, they found themselves sharing mutual friends and spending a lot of time together. Robbie would even drive Kelsey to swim practice almost every day. But their friendship was still new, so they often found themselves riding in silence – not having much to say to each other. Of course, this would soon change because destiny had another idea in mind!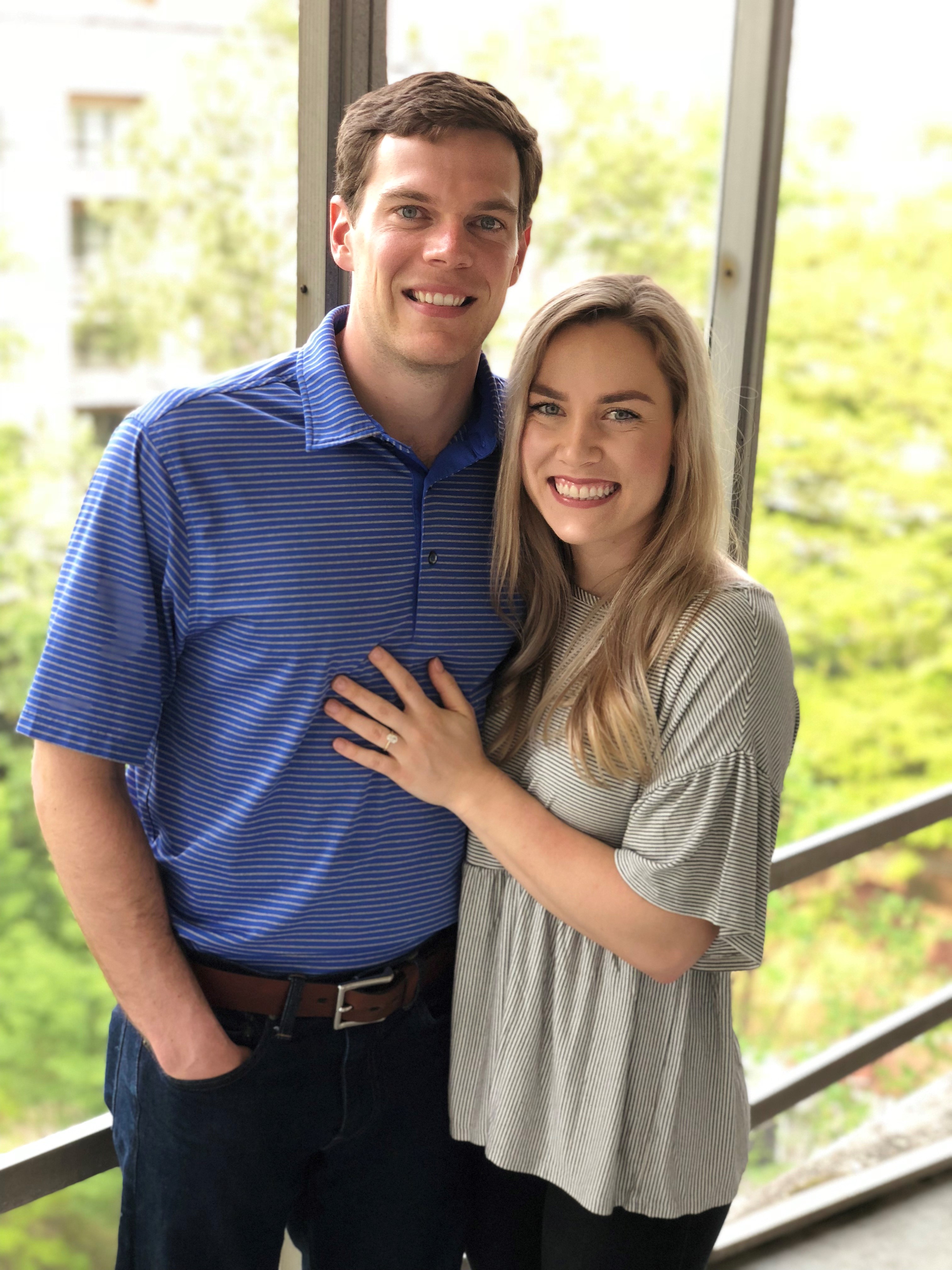 Robbie graduated high school and found himself attending Florida Southern College to swim alongside many of their close mutual friends. He was loving his college experience! So, he and their friends all convinced Kelsey to come take a trip down to Florida Southern. Immediately, she fell in love with the campus and the swim program, not knowing that she soon would also be falling in love with her long-time friend, Robbie – the man should would one day describe as "everything [she's] ever wanted in a husband, but never thought [she] would be so lucky to have."
Fate had interceded once again, bringing Kelsey and Robbie to Florida Southern so that they could finally start their journey to happily ever after. They had known each other for years but this time was different. They caught each other's eye in a way they never had before. And so, the two began dating during Kelsey's Freshman Year and Robbie's Junior Year. Eventually Robbie graduated and they found themselves enduring a long-distance relationship for two years, but distance didn't deter these lovebirds. Instead, Robbie would drive over 450 miles to Lakeland, Florida to visit Kelsey. He made the drive every three weeks, only to spend two days with her and then have to drive back home. But when you're in love, driving hundreds of miles seems like a small thing! Robbie even said:
"I think I knew she was the one when I was excited to drive 450 miles just to be with her for 48 hours. Once we made it through the long-distance period, I knew we could make it through anything. We really grew together as a couple through those times, and it really made me realize how selfless, thoughtful, loving, hardworking, funny, etc. – I could go on forever – she is and how lucky I was to have her."
The couple enjoyed five wonderful years of dating, and Robbie was more than sure that he wanted to spend his life with Kelsey. He knew a proposal was around the corner, so he visited Tara Fine Jewelry Company in Buford, Georgia to find the perfect Diamond Engagement Ring. He was given many hints about the ring and confessed that they were not "very subtle hints either." With the help of his friends at Tara Fine Jewelry Company, Robbie was able to get exactly what Kelsey wanted – a beautiful 18k Yellow Gold Oval-shape Diamond Solitaire Engagement Ring!
Now that Robbie had the perfect ring, it was time to plan the perfect proposal. And no surprise, fate would intercede once again to make it a moment that the two didn't plan but would be truly magical! Robbie initially wanted to propose with their families nearby so that they could all enjoy the moment together, but the plans had to change when Kelsey got tickets to a golf tournament that same day. He couldn't say no without tipping her off that he had big plans, so he decided to keep the ring with him throughout the weekend waiting for the right moment. The moment came after the two had a nice dinner and returned home. Music was in the background, a bottle of wine was on the table, and they were simply enjoying each other's company when they unexpectedly dove into a deep conversation about their relationship. They had grown and experienced so much together, and all of it was beautifully tied together by their unchangeable love. When tears of joy began to come, Robbie knew he couldn't have planned for a better moment. He pulled out the ring and asked his best friend to marry him!
What a blessing it is to know that life and love will always draw you back to each other. A love that is meant to be is truly invaluable, and what two better people to have this type of unshakeable love than Robbie and Kelsey?!
To Robbie and Kelsey, everyone here at Tara Fine Jewelry Company wishes you the best! It is such an honor to have gotten to know you both, and it was our sincerest pleasure to help you with your beautiful Diamond Engagement Ring. While we get to meet many couples, your love truly stands out as one of the purest we've seen. Thank you so much for your friendship. We wish you both a lifetime of joy, blessings, and love!