Thanks for printing! Don't forget to come back to Tara Fine Jewelry for fresh articles!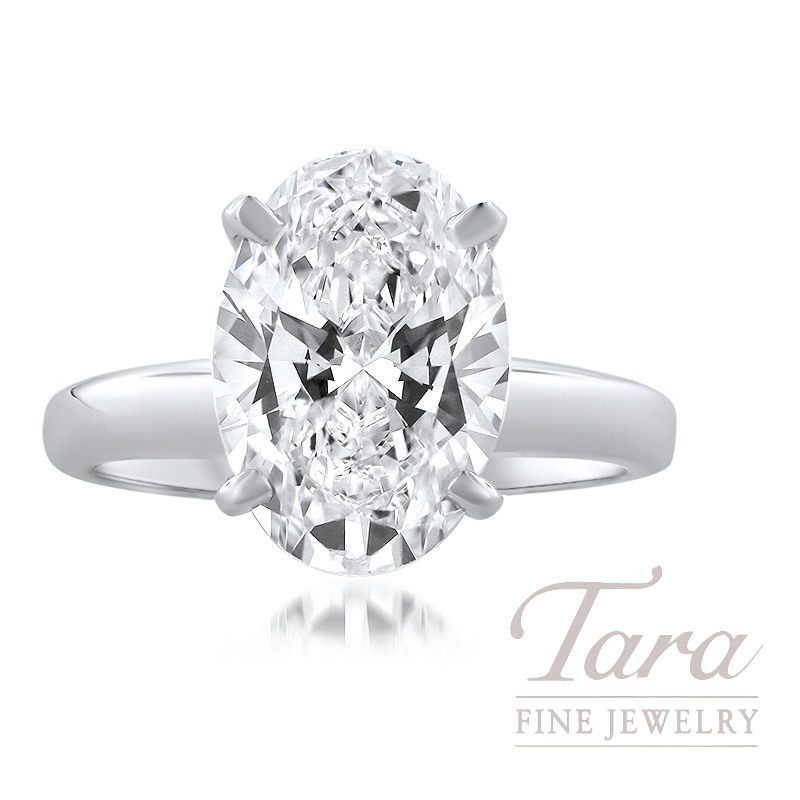 Tara's In Stock Oval Diamonds - Click for Available Sizes!
Check out our 360 View of this Gorgeous 4.02CT. Oval Diamond Solitaire!
---
Find the most beautiful Diamond Engagement Rings Atlanta has to offer at Tara Fine Jewelry Company, Atlanta's Jeweler that specializes in high quality Diamonds and the finest Engagement Rings in Atlanta.
You can never go wrong with the classic beauty and wonder of a spectacular 18k White Gold Oval-shape Diamond Solitaire Engagement Ring from Tara! Home to beautiful Diamonds and the most stylish Engagement Rings in Atlanta, Tara Fine Jewelry Company promises luxurious Diamond Engagement Rings of the finest quality and beauty. Enjoy Tara's wonderful selection of Diamond Solitaire Engagement Rings, crafted from lush 18k White Gold and displaying a radiant Oval-shape Center Diamond. The perfect classic ring for today's modern woman, a beautiful Oval-shape Diamond Solitaire Engagement Ring is the perfect beginning to your happily ever after!
Tara Fine Jewelry Company, your Atlanta Jeweler for Diamond Engagement Rings, carries the rarest and most beautiful Diamonds in the world! Come visit us today to view a wide variety of Diamond qualities and sizes suitable for any and every occasion! In addition to exquisite Diamonds and Engagement Rings, Tara is also your Official Rolex Dealer in Atlanta. Stop by today and marvel at our beautiful Swiss-watch and jewelry selection, and enjoy being indulged with unparalleled customer service!
If you are looking for a specific Diamond carat or quality and you do not see it available below, please give us a call or come into our Buford showroom. We feature many more beautiful Diamonds in store, and we are more than happy to special order a specific Diamond for you!
GIA Certified Item #100-02753: 4.02CT, I-VVS1

GIA Certified Item #190-01185: 3.88CT, J-VVS1

GIA Certified Item #190-01230: 3.22CT, H-VVS2

GIA Certified Item #190-01224: 3.04CT, I-VVS2

Forevermark Item #190-01400: 2.54CT, H-VS1

GIA Certified Item #100-00103: 2.50CT, H-VS1
GIA Certified Item #100-02691: 2.26CT, I-VVS2
GIA Certified Item #190-01285: 2.01CT, H-VS1

GIA Certified Item #190-01284: 2.01CT, I-VS2

GIA Certified Item #100-02690: 2.00CT, H-VS2
GIA Certified Item #190-01330: 1.51CT, G-VVS2

GIA Certified Item #190-00074: 1.50CT, I-SI1

Forevermark Item #190-01399: 1.21CT, H-VS1
GIA Certified Item #190-01292: 1.05CT, E-VS2

GIA Certified Item #190-01178: 1.03CT, H-VS1

GIA Certified Item #190-01385: 1.02CT, F-VVS2

Forevermark Item #190-01438: 1.02CT, I-VS2

Forevermark #100-02730: 1.01CT, D-SI1

GIA Certified Item #190-01386: 1.01CT, G-VVS2

Forevermark Item #190-01396: 1.01CT, I-VS2
GIA Certified Item #190-01384: 1.00CT, F-VS1

Forevermark Item #190-01195: 0.93CT, H-VS1
GIA Certified Item #190-01331: 0.90CT, I-VVS2

GIA Certified Item #190-01337: 0.90CT, I-VS2

GIA Certified Item #100-02726: 0.81CT, E-VS2
GIA Certified Item #190-01429: 0.81CT, H-VVS1

GIA Certified Item #190-01355: 0.80CT, G-VS2

GIA Certified Item #190-01332: 0.80CT, H-VVS1

Forevermark Item #190-01440: 0.80CT, H-VS1
GIA Certified Item #190-01336: 0.77CT, H-VS1
GIA Certified Item #190-01333: 0.75CT, G-VS2
GIA Certified Item #190-01428: 0.75CT, I-VS1

Forevermark Item #190-01439: 0.71CT, H-VS1

Forevermark Item #190-01438: 0.70CT, H-VS2
GIA Certified Item #190-01323: 0.60CT, G-VS1

GIA Certified Item #100-00024: 0.55CT, H-VS1
GIA Certified Item #190-01325: 0.53CT, G-VS1

GIA Certified Item #190-01326: 0.53CT, H-VS1

GIA Certified Item #190-01327: 0.51CT, H-VS1