Thanks for printing! Don't forget to come back to Tara Fine Jewelry for fresh articles!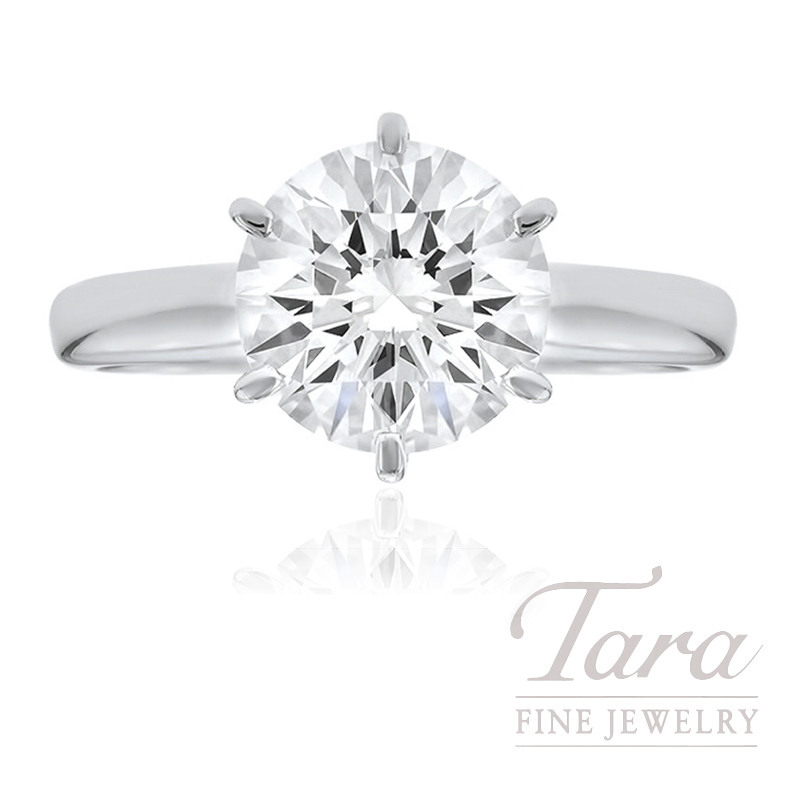 Tara's In Stock Round Diamonds - Click for Available Sizes!
You have many Fine Jewelry Stores in Atlanta to choose from, thank you so much for choosing Tara Fine Jewelry Company Atlanta's Jeweler for over 30 years!
If she's the light of your life, give her a ring that is sure to light up her smile for years to come. A classic 18k Round Diamond Solitaire Engagement Ring features a simple yet elegant design that is forever in style. Fashioned in brilliant 18k White Gold, the ring features a smooth, polished look that makes the perfect backdrop to a fabulous center stone. The 4 or 6 prong setting graciously holds the outstanding beauty of a marvelous Round Center Diamond of impeccable quality and remarkable sparkle - a combination that can only be found in the Diamonds from Tara Fine Jewelry Company. Propose with one of these glorious Solitaire Engagement Rings and watch as your happily ever after begins before your very eyes!
For a wider selection of Solitaire Rings and other style Engagement Rings here at Tara Fine Jewelry Company, visit Tara Fine Jewelry Company in person! Our beautiful showroom, located in Buford, features an astonishing selection of the most beautiful, high quality Diamond Engagement Rings in Atlanta. Looking for something truly extraordinary? Tara carries the most sought after Designer Engagement Rings in Atlanta, including: Forevermark, Ritani, Tacori, and many more. We guarantee that you will find the ring of your dreams at Tara Fine Jewelry Company, the beginning of Atlanta's happily ever after!
If you are looking for a specific Diamond carat or quality and you do not see it available below, please give us a call or come into our Buford showroom. We feature many more beautiful Diamonds in store, and we are more than happy to special order a specific Diamond for you!
Forevermark Item # 190-01445: 6.51CT Exceptional Diamond J-VS1
GIA Certified Item # 100-02756: 5.09CT J-VS1
Forevermark Item # 100-02762: 5.01CT I-VS2
Forevermark Item # 190-01238: 4.01CT K-VS1
Forevermark Item # 190-01342: 4.00CT I-VS1
GIA Certified Item # 100-02695: 3.25CT I-VS1
Forevermark Item # 100-00124: 3.03CT J-VS1
Forevermark Item # 100-02800: 3.03CT K-VS1
Forevermark Item # 100-02787: 2.53CT J-VS1
GIA Certified Item #100-00131: 2.52CT, H-VS1
GIA Certified Item # 190-01255: 2.52CT I-VS1
GIA Certified Item # 100-02640: 2.50 CT I-VS2
GIA Certified Item # 100-00136: 2.40CT I-VS1
Forevermark Item # 100-02782: 2.34CT J-VS1
Forevermark Item # 190-01437: 2.33CT H-VS2
Forevermark Item # 100-00084: 2.25CT H-VS1
Forevermark Item # 100-02770: 2.25CT H-VS1
GIA Certified Item # 100-00047: 2.23CT I-SI2
Forevermark Item # 190-00098: 2.14CT I-VS1
Forevermark Item # 100-02678: 2.05CT I-VS1
GIA Certified Item # 100-02809: 2.04CT H-SI2
Forevermark Item # 100-02709: 2.03CT J-VVS1
Forevermark Item # 100-00081: 2.02CT I-VS1
GIA Certified Item # 190-01186: 2.02CT I-VS1
Forevermark Item # 100-02791: 2.02CT I-VS2
Forevermark Item # 100-02790: 2.02CT I-SI1
Forevermark Item # 100-02708: 2.01CT J-VVS2
Forevermark Item # 100-02799: 2.01CT K-VVS2
Forevermark Item # 100-02750: 2.00CT H-VS1
Forevermark Item # 100-02810: 1.78CT I-VVS1

Forevermark Item # 100-02680: 1.70CT K-VVS1
Forevermark Item # 190-01442: 1.64CT H-VS1
Forevermark Item # 190-01404: 1.63CT K-VS1
Forevermark Item # 190-00114: 1.60CT J-SI1
Forevermark Item # 100-02473: 1.59CT I-VS2
GIA Certified Item # 100-00028: 1.58 CT I-VVS2
Forevermark Item # 190-01316: 1.57CT J-VS1
Forevermark Item # 190-01315: 1.56CT K-VS1
Forevermark Item # 190-00029: 1.52CT I-VS2
GIA Certified Item # 190-00061: 1.51CT H-VS1
GIA Certified Item # 190-01221: 1.51CT H-I1
GIA Certified Item # 100-02727: 1.51 CT M-I1
Forevermark Item #100-02705: 1.50CT I-VVS1
Forevermark Item # 100-02656: 1.50CT I-VVS2
Forevermark Item #100-02685: 1.50CT H-VS1
Forevermark Item #190-00113: 1.50CT J-VS1
Forevermark Item #190-01277: 1.50CT J-VVS2
GIA Certified Item # 100-00114: 1.46 CT G-I2
GIA Certified Item # 190-00030: 1.42CT I-SI1
GIA Certified Item # 100-02636: 1.40CT J-VS1
Forevermark Item # 190-00033: 1.37CT I-VS2
GIA Certified Item # 100-00064: 1.31 CT I-VVS2
GIA Certified Item # 100-00104: 1.30 CT J-VS1
Forevermark Item # 100-02811: 1.29CT J-VVS2

Forevermark Item # 190-00043: 1.29CT I-VS2
Forevermark Item # 100-00091: 1.29CT K-VVS2
Forevermark Item # 100-02803: 1.28CT J-VS1
Forevermark Item # 100-02813: 1.25CT K-VS1

Forevermark Item # 100-00093: 1.25CT I-VVS1
Forevermark Item # 190-00037: 1.25CT I-VS1
Forevermark Item # 100-00039: 1.25CT J-VS1
Forevermark Item #100-02778: 1.23CT K-VS1
Forevermark Item #100-02700: 1.22 CT, J-VVS2
Forevermark Item # 100-00097: 1.21CT G-VS1
Forevermark Item # 100-00079: 1.21CT J-VS2
GIA Certified Item # 100-02765: 1.20 CT I-SI2
Forevermark Item # 100-02776: 1.17CT G-SI1
GIA Certified Item # 100-00046: 1.16 CT L-VVS2
Forevermark Item # 100-00079: 1.21CT J-VS2
GIA Certified Item # 100-02783: 1.07CT G-I1
Forevermark Item # 100-02796: 1.06CT I-VS1
Forevermark Item # 190-01197: 1.06CT J-VS1
Forevermark Item # 100-02794: 1.04CT I-VS1
Forevermark Item # 190-01443: 1.04CT I-VS1
GIA Certified Item # 190-01189: 1.03CT F-I3
GIA Certified Item # 100-02808: 1.02CT F-VS2
Forevermark Item # 100-00080: 1.02CT G-VS2
Forevermark Item # 190-00115: 1.02CT I-VS1
Forevermark Item # 100-02795: 1.01CT I-VVS1
Forevermark Item # 100-00089: 1.01CT I-VVS2
Forevermark Item # 100-00101: 1.01CT H-VS1
Forevermark Item # 190-01276: 1.01CT I-VS1
Forevermark Item # 100-00090: 1.01CT J-VS1
Forevermark Item # 100-02812: 1.00CT K-VS2
GIA Certified Item # 100-02804: 1.00 CT E-VS1
GIA Certified Item # 190-01389: 1.00CT F-VS2
GIA Certified Item # 100-00034: 1.00CT F-VS2
Forevermark Item # 100-02648: 1.00CT G-VS2
Forevermark Item # 100-02643: 1.00CT H-VS1
GIA Certified Item # 100-00044: 1.00 CT H-VS2
Forevermark Item # 100-02797: 1.00CT H-SI1
Forevermark Item # 100-02798: 1.00CT H-SI1
GIA Certified Item # 100-00128: 0.52CT H-SI1
Forevermark Item # 190-01274: 1.00CT I-VS1
Forevermark Item # 190-01441: 1.00CT I-VS1
Forevermark Item # 190-01444: 1.00CT I-VS1
Forevermark Item # 100-02644: 1.00CT I-VS2
Forevermark Item # 190-01275: 1.00CTI-SI1
Forevermark Item # 190-00112: 1.00CT J-VS1
Forevermark Item # 100-02767: 1.00CT K-VS1
Forevermark Item # 100-02703: 1.00CT I-VS1
Forevermark Item # 100-02702: 1.00CT J-VS1
Forevermark Item # 100-02807: 0.91CT I-VS2

Forevermark Item # 100-00118: 0.90CT H-VS2
Forevermark Item # 100-00119: 0.90CT H-VS2
Forevermark Item # 100-02760: 0.90CT I-VVS1
Forevermark Item # 100-02793: 0.90CT I-VS1
GIA Certified Item # 190-00016: 0.83CT K-VS2
GIA Certified Item# 100-02724: 0.80 CT H-VS2
GIA Certified Item # 190-01351: 0.80CT I-VS1
Forvermark Item # 100-02752: 0.80CT J-VS1
GIA Certified Item # 100-02758: 0.80CT J-VS2
GIA Certified Item # 100-02647: 0.76CT H-VS1
GIA Certified Item # 100-02745: 0.74CT H-VS2
Forvermark Item # 100-02741: 0.73CT G-VS1
GIA Certified Item # 190-00011: 0.73CT G-VS2
Forevermark Item # 100-02744: 0.73CT H-VS1
Forevermark Item # 100-02801: 0.73CT K-VS1
Forevermark Item # 190-01167: 0.72CT I-VS1
Forevermark Item # 100-02646: 0.71CT G-VS1
Forevermark Item # 100-02742: 0.71CT H-VS2
Forevermark Item # 100-02743: 0.71CT H-VS2
Forevermark Item # 100-00051: 0.71CT H-VS2
Forevermark Item # 100-02751: 0.70CT F-VS1
Forevermark Item # 190-00038: 0.70CT H-VVS2
Forevermark Item # 190-01192: 0.70CT H-VS1
Forevermark Item # 100-02759: 0.70CT H-SI1
Forevermark Item # 100-02740: 0.70CT G-VS2
Forevermark Item # 100-02645: 0.70CT H-VS2
Forevermark Item # 190-00080: 0.70CT J-VS1
GIA Certified Item # 190-01427: 0.58CT K-VS2
Forevermark Item # 190-01449: 0.58CT H-VS1

Forevermark Item # 190-01452: 0.55CT I-VS1

Forevermark Item # 190-01453: 0.55CT I-VVS1

GIA Certified Item # 190-01189: 0.52CT J-VS1
GIA Certified Item # 100-00007: 0.51CT F-VS1
Forevermark Item # 100-02805: .51CT H-IF
Forevermark Item # 190-01450: .50CT G-VS2

Forevermark Item # 190-01451: .50CT I-VS1

Forevermark Item # 190-01454: .50CT H-VS2
Forevermark Item # 190-01455: .50CT H-VVS2

Forevermark Item # 190-01448: .50CT G-VS1

Forevermark Item # 100-02739: .50CT K-VS1
GIA Certified Item # 100-02735: 0.44 CT G-VS2