Thanks for printing! Don't forget to come back to Tara Fine Jewelry for fresh articles!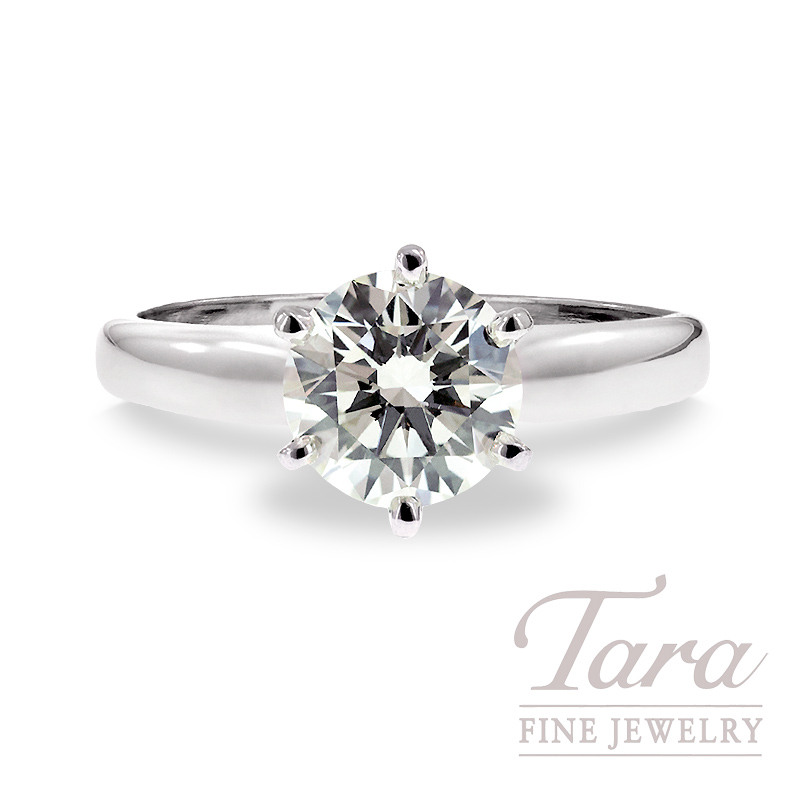 Forevermark Round Brilliant Diamond Solitaires - Click for a List of Our Many Sizes in Stock!
As an Atlanta Forevermark dealer, we are pleased to offer many beautiful Forevermark Diamond Solitaire Engagement Rings. You can never go wrong with a stunning diamond solitaire ring crafted in rich 18-K white gold, especially when it displays a special Forevermark diamond. The picture features a beautiful 1.89ct Round Brilliant Forevermark diamond. (Tara Item: 10-38311) Please come by Tara Fine Jewelry Company to see in person Atlanta's finest Forevermark collection or call Tara Fine Jewelry Company to answer any questions you have about your diamond purchase. As a full service jeweler for over 28 years, we are Atlanta's stop for Forevermark diamonds and the number one destination for quality, service and selection.
The following are a few examples of beautiful Forevermark diamond solitaires we currently have in stock:
Tara Item # 10-38534: 3.20CT I-VS1
Tara Item # 10-38608: 3.03CT J-VS1
Tara Item # 10-38516: 2.40CT I-VS1
Tara Item # 10-38532: 2.04CT I-VS2
Tara Item # 10-38200: 2.02CT H-VS1
Tara Item # 10-38447: 2.01CT I-VS2
Tara Item # 10-38417: 1.77CT J-VS1
Tara Item # 10-38520: 1.71CT I-VS2
Tara Item # 10-38367: 1.70CT L-VS1
Tara Item # 1-36076: 1.52CT I-VS2
Tara Item # 10-38510: 1.51CT I-VS2
Tara Item # 10-38552: 1.36CT H-VS1
Tara Item # 10-38519: 1.33CT K-VVS2
Tara Item # 10-38531: 1.29CT K-VVS2
Tara Item # 10-38371: 1.29CT I-VS2
Tara Item # 10-38363: 1.26CT J-VS1
Tara Item # 10-38533: 1.25CT I-VVS1
Tara Item # 10-38193: 1.25CT J-VS1
Tara Item # 10-38057: 1.22CT I-VS1
Tara Item # 10-38538: 1.21CT G-VS1
Tara Item # 10-38523: 1.21CT I-VS2
Tara Item # 10-38421: 1.21CT I-VS2
Tara Item # 10-38503: 1.21CT J-VS2
Tara Item # 10-38364: 1.20CT I-VS1
Tara Item # 10-38382: 1.19CT H-VS1
Tara Item # 10-38366: 1.17CT K-VS1
Tara Item # 10-38542: 1.09CT I-VS1
Tara Item # 10-38224: 1.06CT H-VS1
Tara Item # 10-38526: 1.03CT J-VS2
Tara Item # 10-38505: 1.02CT G-VS2
Tara Item # 10-38541: 1.02CT I-VS1
Tara Item # 1038530: 1.02CT I-VS1
Tara Item # 10-38524: 1.01CT I-VVS2
Tara Item # 10-38550: 1.01CT H-VS1
Tara Item # 10-38525: 1.01CT J-VS1
Tara Item # 1-35918: 1.00CT I-VS1
Tara Item # 10-38509: 1.00CT G-SI1
Tara Item # 10-38610: 1.00CT J-VS1
Tara Item # 10-38609: .90CT I-VS1
Tara Item # 10-38602: .90CT H-VS2
Tara Item # 10-38605: .74CT H-VS2
Tara Item # 1-36009: .71CT H-VS2
Tara Item # 1-36088: .70CT H-VVS2
Tara Item # 1-35936: .51CT H-VS2