Thanks for printing! Don't forget to come back to Tara Fine Jewelry for fresh articles!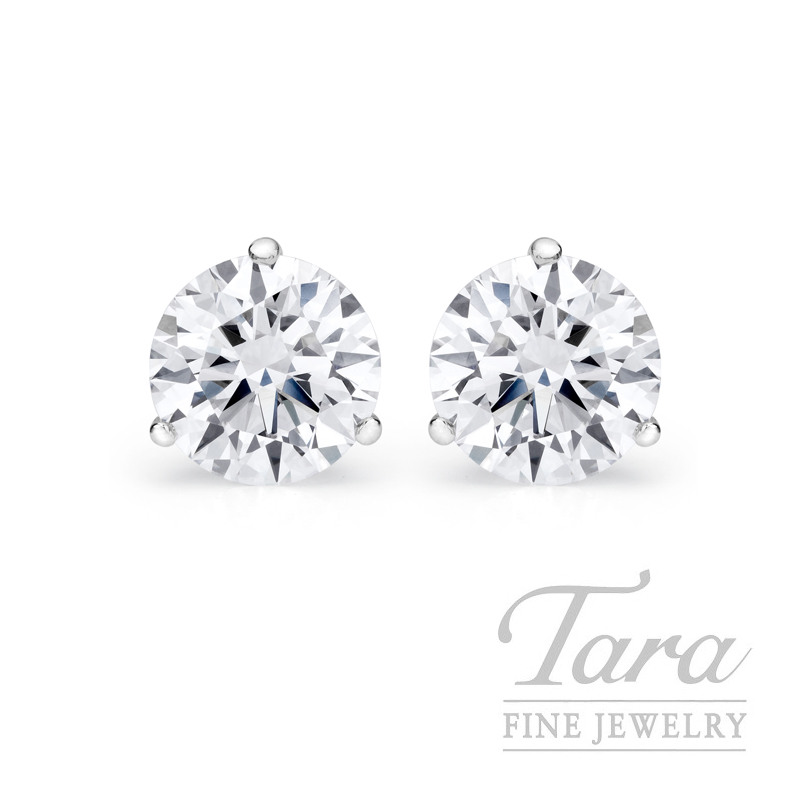 Forevermark Diamond Stud Earrings - Click for a List of Our Many Sizes in Stock!
Forevermark Diamond Stud Earrings are the most coveted addition to every woman's jewelry box, and as an Atlanta Forevermark dealer we are committed to offering a distinctive collection of fine Forevermark diamond earrings. Perfect for every day sparkle with all your favorite outfits, diamond stud earrings are ideal for slipping from fun to work or even glamor. Feel beautiful and perfectly polished with a stunning pair of Forevermark diamond stud earrings from Tara Fine Jewelry Co., home to one of Atlanta's largest Forevermark inventory.
Please visit our store to see our beautiful selection, or call Tara Fine Jewelry Co. at (770) 932-0119 for details on Atlanta's newest Forevermark certified diamonds.
The following is a small selection of our current Forevermark diamond stud earrings set in beautiful 18-K white gold:
Item #150-00255: 4.66TDW J/VVS1 J/VS1
Item #150-00178: 4.05TDW J/VS1 J/VS1
Item #150-06247: 3.01TDW J/VS1 J/VS1
Item #150-06236: 3.00TDW K/VS2 K/VVS2
Item #150-00220: 2.46TDW K/VVS1 J/VS1
Item # 150-00188: 2.40TDW J/VS1 J/VS1
Item #150-00146: 2.12TDW J/VVS1 J/VVS2
Item #150-06347: 2.02TDW K/VS1 K/VS1
Item #150-06348: 2.00TDW K/VS1 K/VS1
Item #150-06187: 1.68TDW J/VS1 J/VS1
Item #150-06258: 1.47CT I/VS1 I/VS1
Item #150-00193: 1.45TDW K/VS1 K/VS2
Item #150-06346: 1.44TDW I/VS1 I/VS1
Item #150-00107: 1.43TDW J/VS2 K/VS1
Item #150-00106: 1.40TDW J/VS2 J/VS2
Item #150-00184: 1.40TDW J/VS1 J/VS1
Item #150-06372: 1.32TDW K/VVS2 K/VS1
Item #150-06373: 1.28TDW K/VS1 J/VS1
Item #150-06242: 1.27TDW L/VS2 K/VS2
Item #150-06374: 1.26TDW J/VS1 J/VS1
Item #150-06375: 1.25TDW K/VVS2 J/VS1
Item #150-06371: 1.25TDW K/VS1 K/VVS2
Item #150-06376: 1.24TDW K/VS1 J/VVS1
Item #150-00093: 1.19TDW K/VS1 K/VS2
Item #150-06260: 1.13TDW K/VS1 K/VS2
Item #150-06370: 1.09TDW K/VVS2 J/VVS2
Item #150-06239: 1.09TDW K/VS2 K/VVS1
Item #150-06302: 1.04TDW J/VS1 J/VS1
Item #150-06366: 1.03TDW K/VVS1 K/VVS2
Item #150-06365: 1.03TDW K/VS1 K/VVS1
Item #150-00033: 1.02TDW K/VS1 K/VS2
Item #150-06369: 1.01TDW K/VVS2 K/VVS2
Item #150-06367: 1.01TDW K/VVS2 K/VVS2
Item #150-06368: 1.01TDW J/VS1 J/VS1
Item #150-06257: 1.01TDW J/VS1 J/VS2
Item #150-06340: .84TDW
Item #150-06338: .84TDW
Item #150-06328: .84TDW
Item #150-06326: .84TDW
Item #150-06332: .83TDW
Item #150-06331: .82TDW
Item #150-06330: .82TDW
Item #150-06333: .82TDW
Item #150-06335: .82TDW
Item #150-06324: .80TDW
Item #150-06334: .80TDW
Item #150-06343: .80TDW
Item #150-06325: .80TDW
Item #150-06336: .80TDW
Item #150-06339: .79TDW